Welcome to the Audi Wilmington Service Center! Learn more about the automotive maintenance and repair services we offer at our convenient location in Wilmington now. Then, schedule a service appointment to get started.
Express Check-In 
Introducing the Express Check-In Kiosks at Audi Wilmington to expedite your check-in process:
Easy to use Kiosk
Intuitive Interface
Fast and convenient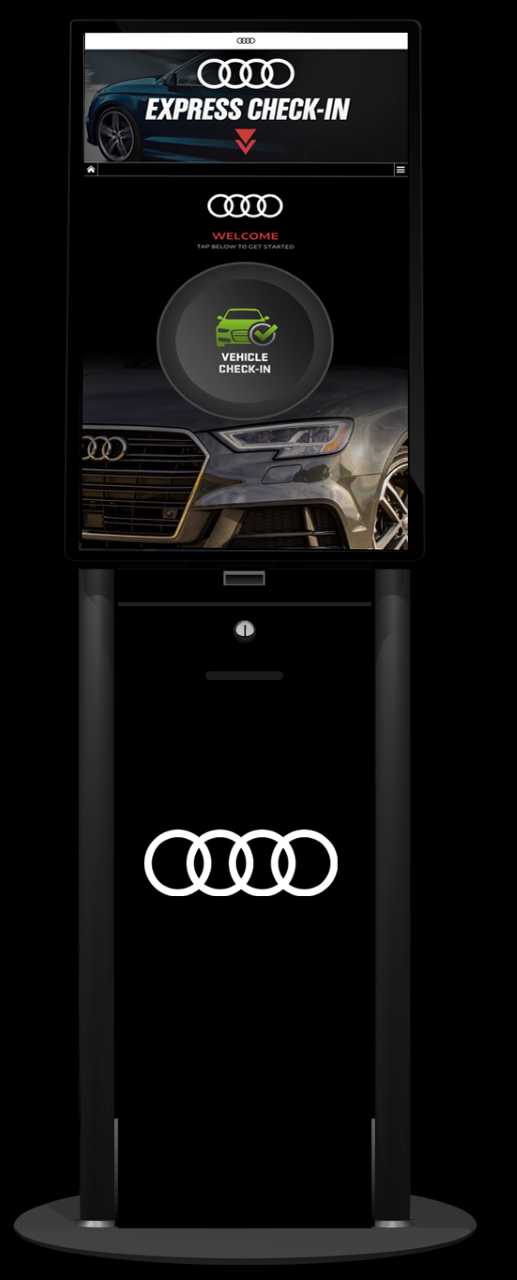 Audi Wilmington Service Center
At Audi Wilmington, we are committed to providing you with a high-quality service experience that exceeds your expectations. We do this by providing a convenient, online scheduling and reminders system, as well as a friendly and positive personal experience in the service center. 
Here are a few of the convenient services we offer for our customers in the Wilmington area:      
24/7 Service Scheduling with our online tool that is easy to use
          
Personalized Maintenance Reminders when it's time for your next service appointment
          
In-depth Service History of your vehicle
          
Dealership News & Service Specials directly in your Email Inbox
Audi Repair
When you choose to get your automotive maintenance, service, and repairs done at Audi Wilmington, you're entrusting us with a lot. That's why we take great care during every single service we do. We will start our appointment by discussing your maintenance goals for the day. Then, we'll perform a vehicle inspection to ensure that we don't miss any of the vehicle's service or maintenance needs. 
While we perform the service, you can relax in our comfortable waiting area and we'll come get you when we're finished. At that time, we'll go over what we did while you were relaxing and let you know what services and service intervalS we recommend for your next appointment. It's a simple process that keeps you informed at every single step.
Ready to Schedule a Service Appointment?
Making an appointment at the Audi Wilmington Service Center is easy! Use the "Service Schedule" tool by inputting your information. You can either log in (if you have already registered), or you can schedule as a guest. If you'd like all your information to be kept in one neat, tidy file, be sure to create an account. With that, your information is there when you log in next time. 
Thank you for choosing Audi Wilmington for all of your automotive needs near Wilmington, Delaware. We appreciate your business and will do our best to ensure that you enjoy your time with us.