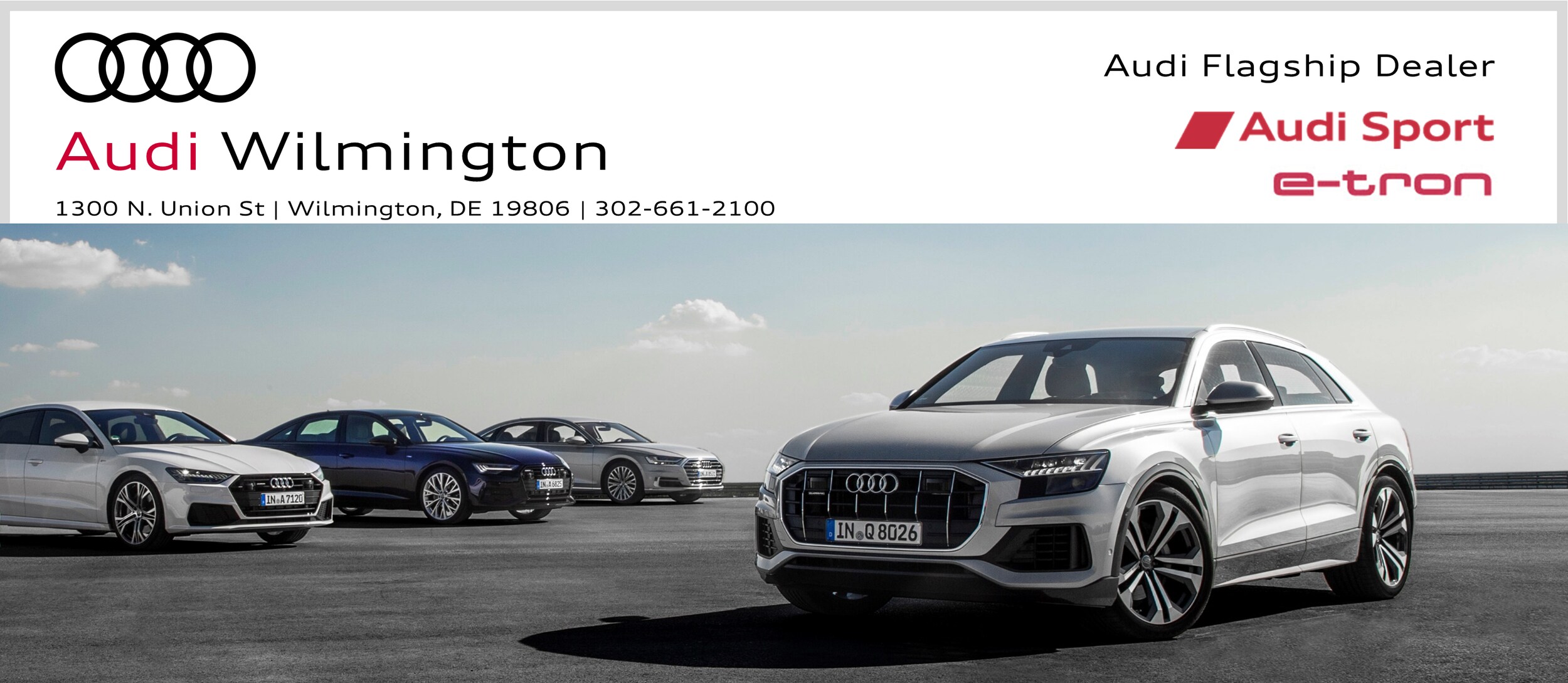 Your Audi Dealer in Wilmington, DE

At Audi Wilmington we are constantly evolving to meet our customers needs by offering progressive solutions for car buying and servicing. Experience how car buying should be by choosing Audi Wilmington as your luxury vehicle destination!
Some Audi Wilmington Highlights:
- OMNI Channel online buying experience
- TAX FREE parts and service in our robust certified service center
- Audi Sport Dealer
- e-tron Dealer
- Customer track experience program
- 30+ courtesy loaners

New, CPO, and Pre-owned Audi's
Buying a new vehicle should be a fun and relaxing experience. At Audi Wilmington, we take our time with you so that you can feel confident about your next vehicle purchase. We carry a large inventory of new, used, and certified pre-owned Audi vehicles so you'll be able to find something to match your budget and lifestyle. Our entire inventory is available online so you can access it any time, and our friendly team is available in our showroom for extensive dealership hours so you can find a test drive appointment that fits within your busy schedule. 
Audi Certified Service Center
In addition to offering vehicle sales, Audi Wilmington also offers a full-service Audi service center for our customers near Wilmington. We offer all of the services you need to keep your vehicle running smooth for years to come, from regular oil changes to tire replacements. 
We also have a full-service Collision Repair Center where we can take care of your vehicle in the event of an automotive accident. The last thing you want to be worried about is the quality of the repair on your luxury vehicle. Let us take care of all of that while you take care of yourself.
A Winner Automotive Group Company
Audi Wilmington is part of the Winner Automotive Group, a family-owned and -operated group of car dealerships in the greater Wilmington area. The company was founded by John Hynansky and is now in its second generation of ownership. 
Our customer-centered approach and our friendly and welcoming environment are the keystones to our success. With a goal of 100% satisfaction with every customer, we do whatever it takes to make our customers happy whether that's answering questions about a complex piece of technology or helping you to choose the best trim level for your next purchase. 
Every dealership in the Winner Automotive family works within the same framework of values. It starts with our commitment to superior customer satisfaction. We do that by having respect for our people, working together as a team, and utilizing effective business practices to keep everyone happy. And by continuing to innovate in our approach to business, we keep the car-buying process fun and exciting for our customers.