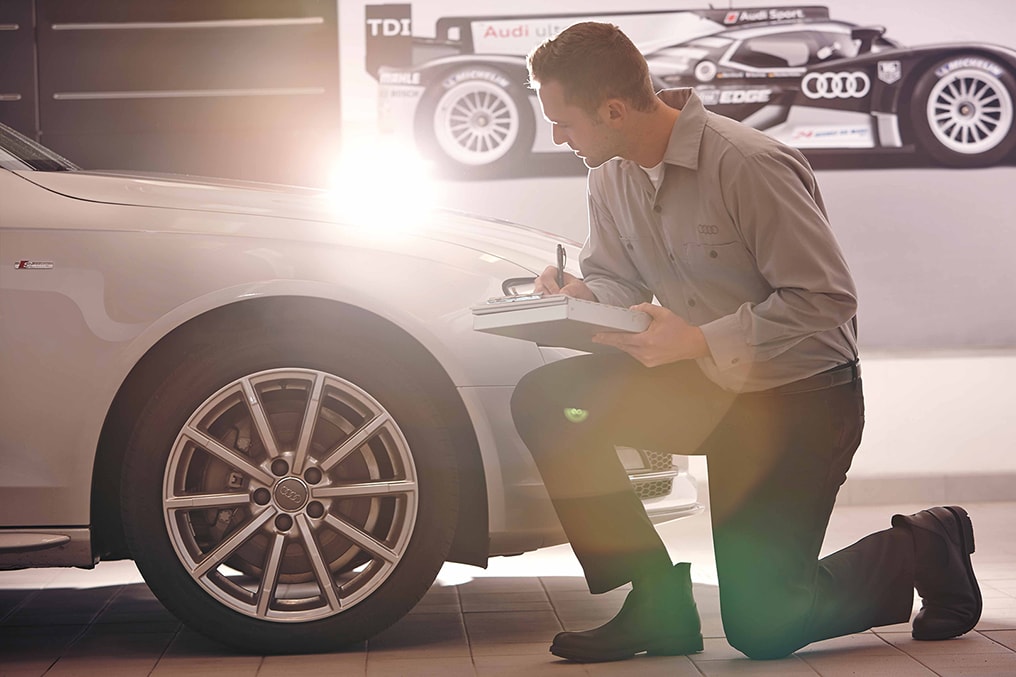 The Collision Center at Audi Wilmington is an Audi Authorized Collision Repair Facility. That means that our team, our facility, and our equipment have all been approved by Audi to perform high quality collision and auto body repair on your Audi vehicle. We proudly serve Wilmington, DE; Newark, NJ; and West Chester, PA. 
Your Automotive Collision Center
If you've ever experienced the aftermath of an automotive collision, you know the importance of having an experienced and helpful collision center on your side. The team at Audi Wilmington strives to be there for you in every way and meet all your automotive needs. One way we do that is by making it as easy as possible for you to get the automotive repairs you need when you need them. 
At our Audi Collision Center, we offer several added benefits to buyers just like you, including the following:
FREE estimates on all repairs.
FREE pick-up and delivery service.
Complimentary shuttle service.
Lifetime warranty on workmanship.
Insurance company-approved repairs.
On-site Enterprise car rentals. 
Why Choose Audi Wilmington for Collision Repairs?
The team at our Audi Collision Center makes it easy for you to get high quality repairs on your luxury vehicle. Our Audi Collision team does everything to the highest standard so you can feel confident in the work we do. All of our repairs are done using Audi Genuine parts so you maintain your investment as much as possible. We'll also give you a warranty on all Audi Genuine Parts for 12 months or 12,000 miles, whichever comes first. 
The team at our Audi Collision Center uses only factory-approved procedures so you can feel confident that your vehicle will meet the high standards set by Audi when you drive away. Thanks to our incredible facility with Audi-specified diagnostic and repair tools, we'll get you back on the road as soon as possible. 
Audi Collision Center Now Serving Your Area Near Wilmington
If you were recently in an accident near Wilmington, DE; Newark, NJ; or West Chester, PA, our Audi Collision Center is your trusted local luxury car collision center. Ready to contact our team? Get your FREE repair estimate now!