No matter which financing option you choose, knowing you're the owner of an Audi vehicle is an exciting thing. With a little thrill, you can get behind the wheel and take on the road ahead near Wilmington, Newark, and West Chester. 
To fulfill that fun daydream, you'll need to first determine how you're going to finance your purchase. In general, you have two options: leasing vs buying. There are a few factors you'll want to consider while you make your decision. 
Buy vs Lease: What's Your Budget?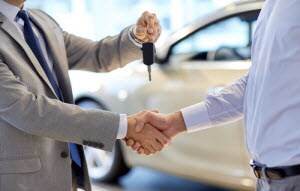 The first thing you want to consider when deciding on buying vs leasing an Audi is your overall and monthly budgets. If you're planning to keep your Audi for the entire time it takes to pay off your loan, then financing the purchase is probably the best way to go. You'll get a lower interest rate if you put down at least 20% for a down payment and you'll have the vehicle paid off by the time you're ready to get a new Audi. 
On the other hand, if you're on a tight monthly budget but still want to enjoy driving around in a brand-new Audi vehicle, then leasing might be your best option. You'll still need money for a down payment, which is sometimes called a Signing Fee, but it's usually significantly lower than a conventional down payment. You won't get it back at the end of the agreement, but the more money you put down up front, the lower your payments will be. 
Buy vs Lease: How Long Will You Keep the Car? 
If you're still undecided about which option is better for your financial situation; buy vs lease, you might consider which one is the better deal for you. 
If you like having a new car and you think you might trade in your vehicle within a year or two, then leasing is a better option. Basically, you're paying to lease the Audi for a set amount of time and your monthly payment goes toward that overall fee. 
Because it's just one main fee, Audi (and other manufacturers) often provide special pricing for buyers looking to lease an Audi. At the end of your leasing term, you can either give the vehicle back and lease a new Audi or you can buy the vehicle and the full loan will be transferred to you. 
If you plan to keep your Audi for the next five to seven years, then buying an Audi is a much better investment. In this case, your monthly payments will go toward the overall cost of the loan. There are also many great financing deals for qualified buyers from Audi for specific models. So, be sure to ask about that when you take a vehicle for a test drive. 
Contact the Audi Financing Experts 
Leasing vs buying an Audi is a tough decision, but with the right information, you can make the best decision for your lifestyle When you're ready to become the proud owner of an Audi vehicle, contact our Audi financing team in Wilmington, DE. We proudly serve Wilmington, Newark, West Chester, and the surrounding communities. Contact us online today!