Audi's company ethos is Vorsprung durch Technik, which translates to Progress through Technology. As the core belief behind everything that happens from design to engineering, technology is at the heart of Audi vehicles. 
If you're considering purchasing a vehicle, then you're likely already attracted to the revolutionary technology, engineering, and design of the Audi lineup. On this page, you'll learn more about the technology in Audi vehicles, including what features to look for in the most popular ones at Audi Wilmington.
What's an Audi Technology Review Page?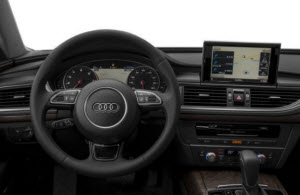 Our technology review pages are popular among new car buyers because they provide useful information about some of the most complex technology features of the Audi lineup. Whether you're in the market for a new vehicle or simply enthusiastic about learning more about the technology in Audi vehicles, you'll find the information you're looking for in the pages listed below. 
What kind of information will you find in an Audi vehicle technology review? We're so glad you asked. Here are some examples:
Advanced safety technology that keep your passengers as safe as possible
Exciting entertainment technology that keeps you entertained when you're on the go
Innovative information systems technology that makes smartphone integration seamless
Powerful performance technology that gives you a thrill when you drive an Audi vehicle
Of course, there's much more to Audi technology than first meets the eye. And it's our hope that by the time you finish reading our technology pages, you'll be excited to experience your favorite Audi yourself.
Tips for Using a Technology Review Page
At Audi Wilmington, we provide a wealth of resources for any interested person who wants to learn more about the vehicles we offer. On our technology review pages, we hope to bring the advanced technology of the Audi lineup to the convenience of your smartphone, tablet, or computer. 
If you're reading our technology review pages, we suggest starting with the model you're most interested in. Not sure which model is right for you? Check out our vehicle reviews then head over to the technology page to get a more in-depth look. 
When you're finished reading about your favorite vehicle, schedule a test drive at Audi Wilmington and let our team answer your questions!