The Audi Q5 and Q7 are two of the flagship car lines from this well-regarded auto manufacturer. Whether you're looking for the best in luxury and comfort or the most modern vehicle in the sector, you can't go wrong driving one of these sharp models on the streets of West Chester, Newark or Wilmington. In fact, the biggest choice most people have when buying an Audi is which of these two outstanding sedans to pick.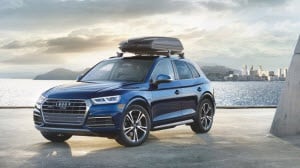 It's helpful to have some side-by-side numbers and features options to look at, so that you can make the best option for you and your day-to-day driving needs. Check out this side-by-side comparison and breakdown from Audi Wilmington of the 2018 Audi Q5 vs. 2018 Audi Q7 to help you make the right choice for your driving needs.
2018 Audi Q5 vs. 2018 Audi Q7
The 2018 Audi Q5 and the 2018 Audi Q7 both have a lot to offer drivers. The Q5 is probably the most modern offering in the segment, delivering the best level of comfort, convenience and technology with conservative styling overall. The Q7 delivers superior space, plenty of room for drivers and passengers alike, as well as an advanced suite of technology. Both have an EPA classification of Small Sport Utility Vehicles 4WD.
Benefits of the Q5
The Audi Q5 features a very high tech interior, an outstanding ride quality and a very refined powertrain. It's got conservative styling, a unique interface for technology, and respectable lines, aesthetics and profile. It's not designed to be an eye-popper; it's designed for comfort, luxury and performance.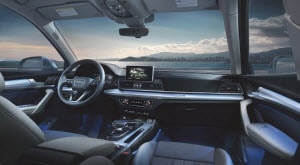 It's pretty solid on EPA-estimated fuel economy, too, offering 23 mpg in the city and 27 mpg on the highway. It's powered by a 2.0-liter inline 4 which delivers 220 horsepower. It seats up to 5 comfortably. Most of the Q7 standard features are available as options on the Q5. 
Benefits of the Q7
The Audi Q7, on the other hand, delivers room for the entire family including third-row seating, sleek lines that will definitely catch the attention of those who see it, and an outstanding ride quality. It's also got pretty incredible technology in the package. As a luxury car, it carries luxury costs, but you'll find the options you get are worth it. The standard features include HD radio, keyless ignition, heated and cooled seats, and parking assist.
It doesn't offer the same kind of fuel economy of the Audi Q5, at an EPA-estimates 19 mpg city and 25 mpg highway. It's driven by a 3.0-liter V6 which generates 333 horsepower. It seats up to 7 with its third-row seating.
Check out the Q5 and Q7 at Audi Wilmington
If you're on the streets of Wilmington, Newark and West Chester and you're interested in more information about the 2018 Audi Q5 or 2018 Audi Q7, Audi Wilmington can help. Just stop into our showroom and check out a whole range of trim levels and options packages in our inventory, then get behind the wheel of each for a test drive and make your choice today!