There are few things in the world more alarming than a dashboard light illuminating in your luxury vehicle. But whether you're the strictest of car owners or one who often forgets to get regular maintenance on time, dashboard lights are somewhat an inevitability. That's why it's key to know what they mean and what to do if they come on, before you find yourself driving down the road with a blinking dashboard light. Refer to one of our Audi dashboard light guides below. 
Dashboard Symbols Light Guides
Audi A6 Dashboard Light Guide
Audi A7 Dashboard Light Guide
How to Find Your Audi Dashboard Symbols Light Guide 
On this page, you'll find listings for many of the most popular vehicles at Audi Wilmington. Within each listing, you'll find information about your specific Audi vehicle, including what the most common dashboard lights mean, what to do when a dashboard light comes on, and where to get more information if necessary. 
The information in these Audi dashboard light guides are crucial to finding out what's wrong with your vehicle and how you can fix it as soon as possible. Some fixes are simple-like tightening your gas cap-while others may require assistance from your local Wilmington Audi dealership service team. The key to keeping your vehicle protected during all of this is to deal with the problem as quickly as possible. This will also prevent unnecessary damages like engine overheating or brake failure. 
Preventing Dashboard Light Illumination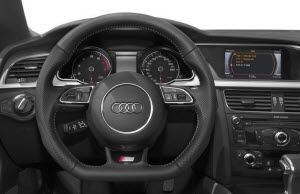 As an Audi vehicle owner, you know the importance of having a vehicle that's running well. Not only is it more efficient than one that needs maintenance, but it's the safest way to protect your investment over the long run. Preventing those dashboard lights from coming on is the best way to avoid seeing them. But how do you do it? 
Regular preventative maintenance is the one surefire way to avoid a dashboard light coming on in your Audi vehicle. Getting your regular oil changes on time, getting a full vehicle inspection, and making sure you get your brakes checked twice a year are simple ways to keep your vehicle running smoothly. For a full list of preventative measures, talk to a member of the service team at Audi Wilmington. 
For now, check out the pages above to find out what the dashboard lights in your Audi vehicle mean. Visit us today to help with the service on your Audi or contact us if you have any other questions!